Lee Winright Brings His Music to KACC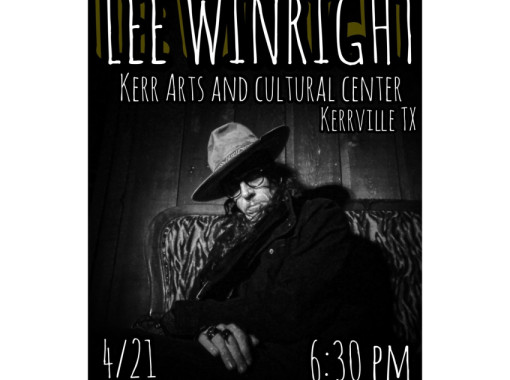 Kerr Arts & Cultural Center
228 Earl Garrett Street
Kerrville, TX 78028
We all enjoyed hearing Lee Winright's original music compositions and stories about performing on the road when he was here last August. Well, he had a lot of fun, too! As a result Lee returns on April 21st to entertain, amuse and tell us a bit about his life as a performer.
Lee will perform Friday, April 21 at 6:30 pm at KACC. Admission is only $5 and there will be concessions available.
Lee Winright is a solo artist based out of the Texas Hill Country, who finds himself in-tune with his music.
While his music has roots in Americana, his genre encompasses a full-bodied mix of blues, country, rock, and heroic harmony.
Winright has worked with national acts including The Chicks, Robert Earl Keen, Charlie Robison, John Hiatt, Kelley Willis, Bruce Robison, and Robyn Ludwick. He also played guitar alongside Charlie Robison for crowds of more than 50,000. He has opened for and performed with James McMurtry, The McKay Brothers, Stoney LaRue, Midnight River Choir, Charlie Robison, Bruce Robison, and Cowboy Mouth on a national level. Most recently, he and the band had a residency at The Continental Club, Austin, TX.
This concert is part of KACC's "Local Music Showcase" - a coffee-house style concert series that gives both musicians and music lovers a chance to interact outside of the clubs in an informal setting. Join us as Lee plays us a few tunes and talks about his music and experiences.
For more information about Lee Winright or the Showcase, call Lanza at 830.895.2911. Volunteers will be needed to help at this event, as well.