KACC Exhibits
2022-23 KACC Exhibits
KACC Gallery Hours:
Tuesday – Friday
10 A.M. – 4 P.M.
Saturday
10 A.M. – 2 P.M.
Our exhibits have garnered regional, state, and national attention for more than 20 years. KACC's three galleries - The James Avery Gallery, Aline Cornels Gallery and James and SJ Derby Gallery - spanning 6500 square feet, support a wide variety of installations and media. From gourds to watercolor, these walls have seen it all!
Applications for Exhibitions
All Dates Subject to Change, Please Confirm with our Office.
Hometown Crafts Teachers Art Show
Jul 14th - Aug 13th, 2022 | Avery Gallery
Our friends at Hometown Crafts and Gifts have underwritten this show and awards so that the talent of our local educators can be showcased in this judged exhibit. Reception: July 23, 2-4 pm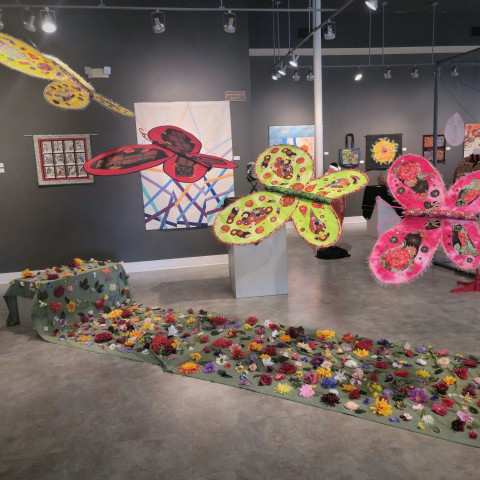 Entangled: Kerrville Fiber Arts Group
Jul 14th - Aug 13th, 2022 | Cornels Gallery
From giant butterflies to jaw-dropping wearable art, the members of the Kerrville Fiber Arts Group have put together an exhibit that is both fun and awe inspiring. Reception: July 23, 2-4 pm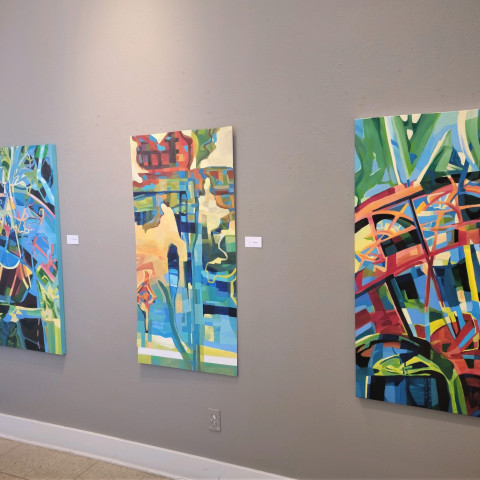 Ancient Sunlight: Paintings by LaRue
Jul 14th - Aug 13th, 2022 | Derby Gallery
Local artist LaRue returns to the Center with her bold, large-scale paintings. While the images are abstract, the play of light, palette and shapes in each painting echo the natural world around us.